You are here
Salary Guide 2020
Download Taiwan Salary Guide 2020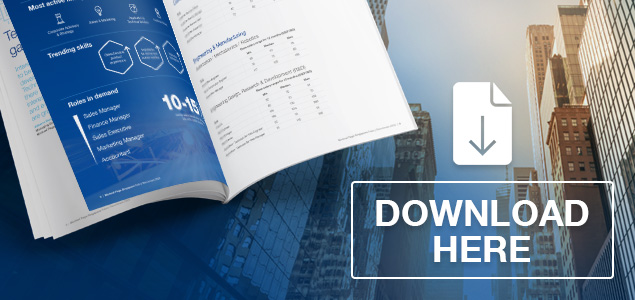 The Michael Page Salary Benchmark is our annual salary guide developed as a reference for hiring managers and job seekers to make informed employment decisions in Taiwan. The guide benchmarks the salaries of various job functions across different sectors, including Finance & Accounting, Technology, as well as Sales and Marketing. Leveraging data from Michael Page's proprietary database, studies and observations, the guide provides precious insights to hiring trends and market sentiments in the Asia-Pacific region.
Furthermore, an additional section, titled "What is the Taiwan workforce thinking", will delve into the specifics of what Generation Y and Generation X are thinking with regard to work, including topics like:
Average salary increase when changing jobs*
| | |
| --- | --- |
| Functions | (%) |
| Digital | 13 |
| Engineering & Manufacturing | 17 |
| Finance & Accounting | 15 |
| Financial Services | 15 |
| Healthcare & Life Sciences | 12 |
| Human Resources | 13 |
| Legal | 13 |
| Procurement & Supply Chain | 12 |
| Sales & Marketing | 23 |
| Technology | 15 |
* Data is derived from July 2018 to June 2019, and is validated against insights from our leaders' and consultants' interactions with clients and candidates.
How can the report benefit you?
If you are looking to hire
:
Understand factors that attract and retain talent
Project reasonable talent cost based on hiring forecast
Discover top reasons for resignation
If you are a job seeker
:
Find out potential roles to upskill for
Cite informed salary expectations when switching jobs
Discover trending skills for your job function
Taiwan Salary Benchmark 2020: Technology adds buoyancy to Taiwan's talent outlook
On a macro level, one clearly cannot overlook the adverse international conditions from both a trade and a market volatility perspective. Yet given that Taiwan is experiencing a net brain drain to the mainland, do not be surprised if due to the race for top talent across digital, engineering, technology and data-focused profiles, it continues to be a candidate-driven market.
With that said, there are several hiring bright spots for Taiwan. Technology in particular continues to look promising, and we anticipate market buoyancy for software development, online gaming, start-ups, app development and other developer-driven sectors. Affirming this, big brands in technology continue to invest. Google has announced it will double its office space in Taiwan in 2020, while Microsoft and Amazon have confirmed plans to invest further in R&D centres.
We expect further positive indicators from our traditionally strong sectors like Engineering, with Semiconductors, Renewable Energy and Healthcare & Life Sciences (HLS) continuing to look positive. We're also seeing promising signs of manufacturing activity returning, while hirers in Financial Services and Operations sound confident, particularly as Taiwan remains a relatively high-skill and low-cost business location.
On the hiring front, tougher times do breed positive private-public discussions, and we appreciate that the government continues to try to make it easier to hire overseas talent. And while there has historically been resistance, in line with prevailing growth globally, we welcome a constructive dialogue into injecting greater flexibility into Taiwan's hiring market.
Here's wishing both you and your wider team an extremely successful year ahead.